Description
Change Your Life with Feng Shui . Unlock the Secrets to Love, Health and Success
The Path to Success & Prosperity
A powerful step by step Ebook  Feng Shui  to attract Abundance, Love and Prosperity into your life TODAY! This guide will change the way you see your living space. Over 130 pages packed with explanations, the "Do's and Don'ts", guidelines, secrets, tips.
Do you want to create more success in your life?
Are you ready to make it happen?
This Ebook Feng Shui is designed to help you resolve your problems and attain your goals. I want to show you how to use the techniques of FENG SHUI to create more abundance in your life.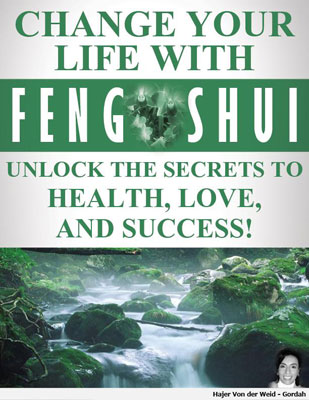 Do you want to take control of your life?
Do you want to multiply your profits?
Do you want to be your own boss?
Do you want to reinvent yourself?
Do you want to drop your Debt?
Are you looking for love?
Are you feeling down?
Written by Feng Shui Expert Hajer von der Weid, this Ebook contains all the information you need to start to surround yourself with the happiness and prosperity you deserve.
Click below to purchase this Ebook now through our secure online payment processor
 ONLY 12 CHF
A powerful step-by-step Guide to Attract Abundance and Prosperity into Your Life TODAY. Over 133 pages packed with ideas, secrets and tips so YOU can begin to create the abundance and success you desire, starting immediately!
Begin to transform your living space with the ancient principles of Feng Shui and enhance the harmony of your life.
Here are just a few of the Ebook Feng Shui Swiss secrets you'll learn:
Discover your Personal Power Number and how to use it for your well being
How to create a perfect Bedroom for Love
The power of your Kitchen and the impact on Your Finance and your Career.
The cures for missing spaces
And much, much more….
Increase Your Mental Focus
Renew Your Energy
Attract Love and Happiness
Improve Your Health
Increase Wealth and Prosperity
Improve your Children behavior
Think of how you would benefit from knowing how to do this.
If you said YES, then you must order today this powerful Ebook Feng Shui that can Change Your Life!
Discover the Ebook's Table of Content, which outline many of the Feng Shui tips you will discover.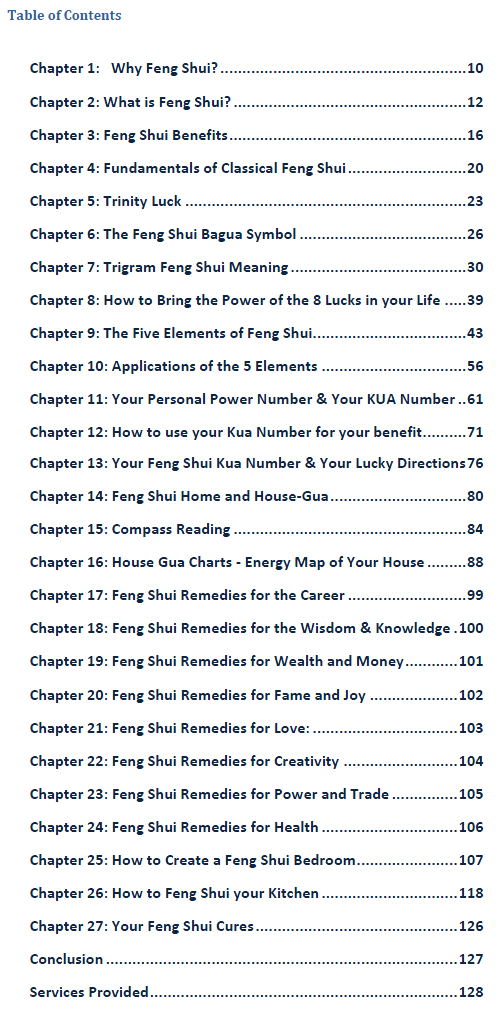 Change Your Life with Feng Shui. Unlock the Secrets to Love, Health and Success is available for only 12 CHF
You will find a wealth of information, Feng shui tips and cures, so you can too achieve the Success, Abundance and Happiness YOU deserve.
Testimonials:
Y.S France
I know you are reading my testimonials because you are looking for a Feng Shui consultant. I hesitated, just like you, to make the right choice among different consultants found on the internet. You may have various reasons mine were finding a suitable apartment for my family.
I might post another testimonial in a year time with the results of thework. For now, I just wanted to share my experience working with Hajer.
First, I bought her Ebook Feng Shui it gave me a good general overview. I tried some other consultants (didnt work for me that was my extra payment for the right choice) and finally decided to contact Hajer. In few words: rapid response, lots of questions (you will appreciate it at the end), very personalized and tailored to your needs and intentions approach.
p.s. Dont be surprised if Hajer calls you a few hours after your submitted a request.
Good Luck!
G. B., Sweden
"I was suggested by a business acquaintance to meet with Hager as it had "changed his life". So I contacted Hager and asked her to do a report on myself and my daughter.
When we met for the recap I was completely taken aback by the bull's eye, straight to the point accuracy of the report that I was absolutely shattered at first. How could this be so accurate based only on a date of birth and location? The insight was terrifying but also relieving.
So right then I decided to move forward and asked for the full fledged analysis of my house. I took on the project as a business project, fully determined to go all the way. Hager came back with a LONG list of things to do – two phases: right away and at a later date. There was no way out. I spent a weekend on the first part, and then a full week on the second part as it included a lot of cleaning out. I moved furniture, installed electrical items, professional road mirrors and had minor constructions done in the garden  all in all, the project took me 2 months to complete.
I never stopped once to question, or reason, I just DID.
And it changed my life. Both my daughter and I sleep well, and love our respective rooms, there is a sense of harmony and wellbeing in our house, we both have successful results at school and at work – it's not comparably to "before." There is harmony and sincerity in the place we live now.
I just want to emphasize the commitment needed and the determination to go all the way  then it has absolute results!"
Barbara B., Switzerland
I was referred to Hager by a friend of mine who had completely turned her life around in the space of a few months after meeting with Hager and taking on board her advice. I was in a very "stuck" place in my life. I knew that a lot of things were not working and that I was out of balance, but I didn't know what to do to turn things around. I wrote Hager an email one evening when I was feeling particularly desperate, especially concerning money. I knew that I needed to take action and I really didn't want to find myself in this desperate place again.
At the first meeting I was immediately struck by how much of what Hager new about me from the Destiny Chart she had created rang true. She was very blunt about what was going on with me, but not unkind. I had the impression that she was "giving it to me straight" out of compassion, in order to push me to take action because she really wanted to see me in a better place. I wasn't pleased by everything she said, and some of it I downright resisted, but because the key points were so close to the target, I made the decision to follow her advice and to see if I could perceive a difference.
The first thing I did was to give away over half of my wardrobe. I parted with some really loved things because they were not good colors for my energy. This may sound like a superficial change, but I immediately felt the difference in my energy and I also started to get compliments when I wore the colors that were recommended for me. I had never worn a lot of green, but when I started wearing the one green scarf I owned, people really noticed and complimented me on how nice the color looked on me! I also started to swim once a week and found that I felt relaxed and refreshed afterwards. I began to incorporate yoga moves into my stretching routine and felt more harmony in my body.
A few weeks after our initial meeting, Hager came to my flat and had a look around. She measured and reflected and then we stared moving the furniture! We rearranged the living/dining room quite significantly and changed the direction of my bed in the bedroom. She recommended that I buy a mirror for a particular wall and that I enclose the shoes I had on a rack near the door. We also repositioned several plants. The changes were really quite small, but I immediately noticed a difference in how the house felt. It seemed more open and spacious and less cluttered too.
It took a couple more months for me to implement all of the changes, but now that I have pretty much everything in place, I am not only noticing that I feel differently in the house, but my energy is different even when I am not at home. I feel more powerful, more integrated and people are reacting differently to me. It's hard to explain, but I feel somehow more whole, more me. I fully intend to continue to take Hager's advice and to alter my surroundings to keep the energy flowing. For me, this works!
Reminder: You must have Adobe Acrobat Reader on your computer in order to read .pdf files, including this E-book.
If you don't have it you can download a free copy at Adobe's Web site: HERE.